Dedicated Nashville Lawyer
Clients who hire Ed get:
Exceptional Results
Superb Service
Peace of Mind
Ed is a dedicated Nashville lawyer who is recognized as one of the "10 Best Criminal Law Attorneys" for client satisfaction, for being in the "Top 10 Under 40" in Tennessee, and as a recipient of Avvo's "Client's Choice Award". Ed practices criminal defense in State and Federal Court in Nashville. With over 1,500 criminal cases under his belt, Ed has handled nearly every type of misdemeanor and felony case with countless successful results through settlement and trial. The focus of Ed's practice is to get every client a great result. Call or text him today to set up an appointment :)
Call/Text (615) 364-1463
What Clients Have Said About Ed
"Mr. Hastings made me feel like I was his only client though I knew that wasn't the case. As a first time offender when I got booked for a DUI I felt beyond awful, like my whole world was crumbling. Thankfully to Mr. Hastings positive and reassuring attitude I got out of my funk pretty quickly. This is an attorney that has the analytical skills needed while also being an absolute people person. He checked in with me every week, really made me feel heard when I spoke, kept me well informed, was always available and most of all got me the BEST results! I honestly feel like he was looking out for me....well at the risk of sounding like a paid promotion I'll stop now. lol. I hope that I never need a criminal defense attorney again but if I do I will most definitely be calling him!" - Latiyfa F.
---
"Mr. Hastings is an extremely professional, caring attorney. He went above and beyond to have my court date rescheduled and to check on me and my health status when I had to have emergency surgery a short time before my original court date. When he and I went to court, Mr. Hastings strongly advocated for me. I received the best results I could have hoped to get. I would strongly recommend him to family, friends, and anyone else seeking legal representation." - Anonymous
---
"Mr Edward was very supportive and took time to listen to what I had stay. What's I mostly admired about him is how consitant he was in communicating with me, he even sent me a morning text reminding me off my court date. I don't think there's a lot of defense attorneys with that type of care and responsibly to the people of Nashville man thank you." - Moses K.
---
"I hope to never get in trouble again but if I do I will call him!!! He is so good! Always answered my questions, got it done told me what would happen and it happened!! I recommend him to anyone!! If I ever have ANY ISSUE I will call him!!" - Heather D.
Client Artwork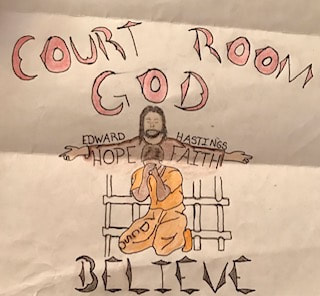 Call/Text (615) 364-1463